Alright ladies and gentleman, here's what you all have been waiting for: two guys actually talking about sports. That's right, we have an alternating mock draft here, with KD and I doing the picks. KD's bringing the rational insight and knowledge; I'm bringing the idiotic comments and picks that resemble Detroit Lions GM Matt Millen's drafts from 2002 to 2006. Before we get started here, there's two ground rules: 1. No trading picks. Teams are stuck where they are. 2. We aren't picking based on what we think teams are GOING to do, we're picking based on what we think teams SHOULD do. Because it's more fun that way. We're going to release the first half today; second half of the first round picks come out tomorrow. Now, as Michael Buffer likes to say... "LET'S GET READY TO RUMBLEEEEEEEEEEEEEEEEEEEEE!!!!" KD, you're on the clock with the Carolina Panthers.
1. CAROLINA PANTHERS. Cam Newton, QB, Auburn. Welcome everybody, happy to be here.

With the first pick of the 2011 NFL Draft, the Carolina Panthers select Cam Newton. The Panthers swing for the fences with this one. Newton will get the opportunity to play behind Jimmy Clausen at first while he learns th
e nuances of the pro game. Once he does, the sky is the limit for him if he can master an NFL offense - easier said than done. Newton's got prototypical size, good athleticism and has shown surprising accuracy. Coming from Auburn coach Gus Malzahn's offense will be a big transition, but all things considered, he's the best move for this franchise. The Denver Broncos are now on the clock.
2. DENVER BRONCOS. Nick Fairley, DT, Auburn.
Phew. If you didn't take Newton, I was going to pick him just so I could imagine what it would be like to have bad boy Cam Newton, religious guru Tim Tebow, and party animal Kyle Orton fighting it out for a starting QB job. Could you imagine the things we could do with that race?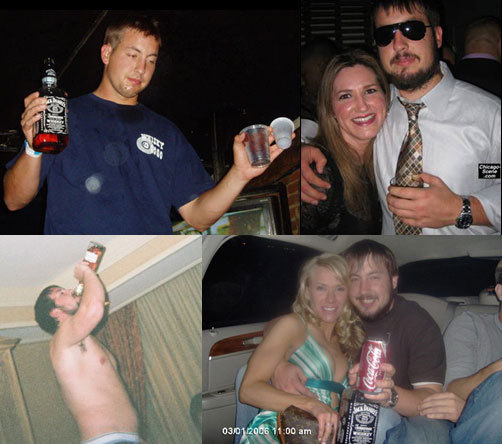 I really considered taking a QB anyway, but really, I like Kyle Orton there. He works well in the system and I don't understand for the life of me why they messed with the passing game, the only thing that clicked in Denver last year. Denver's probably going to take Marcel Dareus because they need a defensive tackle like whoa, but to boost a defense that thought it was playing two-hand touch last year, the Denver Broncos are going to select DT Nick Fairley from Auburn. I'm taking Fairley based on what I saw this season. Fairley dominated college football on the defensive front, impressed at the combine, and excelled at Auburn's pro day. Sure, he has character issues, but who doesn't? Fairley plays with an edge and destroyed the toughest conference in football last year. He's my guy.
3. BUFFALO BILLS. Marcel Dareus, DT, Alabama. The Bills throw a bit of a curveball taking Marcel Dareus here. At OLB they saw James Moats emerge; they have Chris Kelsay who is solid, and they'll get Shawne Merriman back from injury so they pass on Von Miller. They lost Marcus Stroud and really could use a 3-4 DE to help Kyle Williams up front. Dareus is the best front 7 player and the Bills play it safe after misusing RB C.J. Spiller last year.
4. CINCINNATI BENGALS. Blaine Gabbert, QB, Missouri. Because we're doing this by what teams SHOULD do, not what they WILL do, the Bengals are taking a QB1 here. Mike Brown is calling Carson Palmer's bluff by saying he's not taking a QB with the fourth pick, but I don't think Palmer's bluffing. He's as good as gone, which once again proves that Mike Brown needs to be fired (wish that could happen) as the owner of the Bengals. This team's support has jumped off a cliff after last year; expect many empty seats in Paul Brown Stadium. And Jordan Palmer isn't exactly Big Brother's caliber; when your potential starting QB's greatest professional achievement is the establishment of www.runpee.com, you've got issues. As much as I would love the Bengals take recently admitted party animal Ryan Mallett here to fit the team's profile, the Bengals take Gabbert. He's a solid prospect at 6'4" and 235, and has very good arm strength. He needs to work on his deep ball over the next year, but I think the concerns are a result of the lackluster weapons he had at Missouri. I don't love the pick, but he's clearly the second-best QB prospect on the board and needs to be taken here by the Bungles.
5. ARIZONA CARDINALS. Von Miller, OLB, Texas A&M. The Cardinals are reeling a bit as they fully expected the Bengals to take Ryan Mallett and leave them with Blaine Gabbert. After all, Mallett fits the Bengals MO. While the Cardinals are fully expected to sign Marc Bulger, who by all accounts was just as good as Joe Flacco in practice last year, the Cardinals have to take a long, hard look at Ryan Mallett. But after much deliberation, and being force-fed restraints from the conservative Bidwell family, the Cardinals take Texas A&M OLB Von Miller. Miller, the best pass-rusher in the draft, had triangle numbers (size, speed, strength) on par with DeMarcus Ware. Joey Porter can't run anything but his mouth, and the Cards don't have much else with Chike Okeafor, Will Davis, and O'Bryan Schofield (who is coming of a torn ACL). With Arizona's system, they'll take their chances of getting a guy like Ponder or Dalton in the 2nd round rather than get burned again by a QB in the first...ala Matt Leinart.
6. CLEVELAND BROWNS. AJ Green, WR, Georgia. The Brownies are torn here between selecting a solid DE or DT to bolster their 27th ranked run defense, or select a game changing WR with All-Pro potential. Considering that this is one of the deepest D-line drafts in years, I look for the Browns to select Georgia WR AJ Green over Alabama WR Julio Jones in a tough decision. I mean, name one successful Browns WR over the last 10 years. Braylon Edwards you say? He needed stick 'em to catch the ball and ran his mouth better than he ran routes. Josh Cribbs you say? Hello! He's a kick returner, and not much else. Anyone else? Anyone? Bueller? Bueller? Sure, AJ Green has some character issues, as he sold his bowl jersey for $1,000 and sat out the first four games of last season. But if I'm an NFL GM, who cares now? He can sell whatever the hell wants as a professional! I want a 6'4", 210 lb physical reciever who played in the SEC and over 8 games averaged 7+ receptions and 100+ yards/game with 9 touchdowns.
7. SAN FRANCISCO 49ERS. Patrick Peterson, CB, LSU. Jim Harbaugh practically pisses himself as he has his minions turn in the card that reads Patrick Peterson. What, no quarterback you say? You don't need a quarterback when you can play defense the entire game. Realistically, I think Alex Smith might turn a few heads in Harbaugh's offense (NOTE: Chizzy laughed at this comment), and if you don't think they'll pony up every pick possible to get Andrew Luck next year, you're crazy. Having said that, Peterson is probably the most talented player at any position in the draft. Peterson gives the 49ers a lock-down corner opposite Nate Clements, or he could potentially be the next Sean Taylor by replacing Dashon Goldson at free safety. Either way, a defense with Patrick Willis and Patrick Peterson in its back seven is going to be a force to be reckoned with. Peterson's a freak in the mold of Oakland's Nnamdi Asomugha, and Nate Clements certainly still has some good game left in him. If the 49ers can find a pass-rush later in the draft, watch out for that defense.
8. TENNESSEE TITANS. Robert Quinn, DE, North Carolina. With Mr. AWOL Vince Young out the door at QB and the stache-man himself Jeff Fisher out at coach, the Titans need to make a solid pick here as a new era begins in Nashville. Ideally, the Titans should trade down as I don't really like anyone for them here, but that's not how we play this game. The Titans need a QB bad, but not bad enough to pick Christian Ponder, Jake Locker, or Ryan Mallett at the 8 slot. To me, this came down to these options: a DE, a DT, or WR Julio Jones. There's no DT here worth taking, and I think the Titans are ok with Kenny "I wasn't driving that Porsche" Britt and Nate Washington. So in a bold move, the Titans select North Carolina DE Robert Quinn, who hasn't played football since the 2009 season, over Da'Quan Bowers, who has injury concerns. Quinn looked good at the Combine, was a beast the two years he played, and fits the Titans mold as a pass-rushing savant. The Dallas Cowgirls are now on the clock.
9. DALLAS COWBOYS. Tyron Smith, OT, Southern Cal. I feel dirty just for having to select the Cowboys pick. If there's a team that really needs to step up their draft efforts it's the Cowboys. They haven't found many quality players since Bill Parcells left town. For a team that's as bad as Dallas is, there's not too many glaring needs. OT, CB, and DE are the three main concerns. I'm not going to just throw J.J. Watt in there in this draft, so it comes down to taking an offensive tackle or taking Prince Amukamara. The Cowboys have drafted a lot of depth at CB over the years to go with Terrance Newman with mixed results (Mike Jenkins, Orlando Scandrick, DeAngelo Smith, and Mike Mickens). Tony Romo getting blasted last season sent a message to Jerry Jones that he ignored for years: your QB is only as good as the blockers in front of him. Andre Gurode is the only starting caliber OL on the Cowboys roster, and despite his infamous tweet, I think the 9th overall pick is too early for C/G Mike Pouncey. Jerry Jones is always one for flash, so USC's Tyron Smith is the pick, and the Cowboys will move him to LT as opposed to the RT spot he played out at USC. Smith is athletic, strong, and the left side will be a transition, Romo's mobility should help him out. The same thing happened with Jay Cutler in Denver in Ryan Clady's rookie year. My guess is Chizzy will feel just like dirty money making the pick for the Skins.
10. WASHINGTON REDSKINS. Julio Jones, WR, Alabama. I drink hate for the Pinkskins, (Lil')Giants, and Cowgirls on a daily basis, so you're damn right I feel dirty for picking for D.C. When was the last time this team was relevant? 1989? But when looking at this pick, I began to love it, because I realized that the Skins have more holes than a wheel of swiss cheese. Where do I start? DE? DT? RB? QB? WR? But I feel like only one glaring need can be fixed here. The Skins have lacked a playmaker on offense for years. I don't think McNabb is washed up, I just think he needs a big time receiver to throw the ball to. Santana Moss is a possession receiver (and he's lost a step), Anthony Armstrong is a C+ version of DeSean Jackson, and Joey Galloway is older than My Boy Blue!!! That's where Alabama WR Julio Jones comes in. He's fast as hell, has great hands, even better range, and can make short catches on third down or go for the deep bomb. Plus, he's tough. The guy ran a 4.34 40 at the combine on a broken foot. I want him on my team, and he'll make NFC East D's cry for years to come (take your time on the next pick while I go bang my head against the wall a few times).
11. HOUSTON TEXANS. Aldon Smith, DE, Missouri. The Houston Texans have a ridiculous offense. Andre Johnson is an absolute weapon, and their system just works. However, their defense has been awful...and their answer was to add Wade Phillips as defensive coordinator and switch to a 3-4. They have Mario Williams to play one of the end spots, and that have two studs in the middle with DeMeco Ryans and Brian Cushing. What they don't have are a NT, pass-rushers, and a cornerback. Their pass defense was historically bad last season. So I think it comes down to Prince Amukamara or a pass-rusher as there's really not a good value at NT here. That being said, the Texans shock the world and go with Missouri DE Aldon Smith. Smith will switch to OLB in the Texans 3-4 scheme. He's got absolutely violent hands, the best I've seen in long while, and if the Texans allow him to move forward a lot a la DeMarcus Ware in Dallas (where Wade Phillips was last seen) as opposed to dropping him in coverage. Just for reference, the Steelers are consistently the best defense in the NFL with their 3-4 defense. Quick, name one of their CBs. It's okay I'll wait for you to Google it. If you can get to the QB, you can improve your defense, and that's what Aldon Smith will do for the Texans defense. I think Smith could be a Defensive Rookie of the Year candidate in Phillips' system.
12. MINNESOTA VIKINGS. Prince Amukamura, CB, Nebraska. In what could potentially be their last draft ever in the Great State up North, the Minnesota Vikings are on the clock. The Vikings have a lot of holes to fill, and it came down to three options: (1) one of the QB's; (2) CB Prince Amukamura; (3) DE Da'Quan Bowers. My thoughts are that any QB at this point will not be a starter right off the bat, so the Vikings hope Andy Dalton or Ricky Stanzi is sitting there in the later rounds. The Vikes will have either Joe Webb, Patrick Ramsey or Tavaris Jackson behind center (gulp). The Vikings need a pass-rusher to complement Jared Allen, and a shutdown CB of the future as Antoine Winfield is 34 years old. I think the Vikings look at Da'Quan's injury risks and decide to get the best player available and a name we've tossed around a lot so far, CB Prince Amukamura from Nebraska. Prince will immediately make an impact, taking over the other side of the field from Asher Allen and Lito Sheppard, who listed his favorite hobby as "letting WR's blow right by me while I stand there looking like a lost puppy." Amukamura is so good that Big 12 offenses haven't even thrown at him the last two years. He immediately upgrades the secondary and the Vikings take a QB and DT/DE in the later rounds. Besides, Prince in purple seems like a legitimate fit doesn't it? The perennial NFL whipping boy, the Detroit Lions, are on the clock.
13. DETROIT LIONS. Da'Quan Bowers, DE, Clemson. Detroit fans are so disappointed about not being able to select Prince, well...I'm not sure what they'll do. My buddy Sean, a lifelong Lions fan, once threatened to burn down a BDubs (during the Calvin Johnson non-touchdown against the Bears) with me inside as the Dolphins game was still going on. Yikes.

Anyways, Detroit has a ton of needs. While conventional wisdom says they need a CB, none are worth of being selected here. They've got some talent on offense, but they need to keep Matthew Stafford alive long enough to use said talent. They also need a replacement for Kyle Vanden Bosch at defensive end. Cliff Avril is a pretty underrated player on the other side, but he needs help. While I'm not sold on Colorado's Nate Solder or Boston College's Anthony Castonzo, I am sold on Clemson's Da'Quan Bowers. Bowers is a physical specimen who's played both DE spots, and can even stand up and play some OLB much like how the Cardinals have used Chike Okeafor and the Bengals have used Michael Johnson. Not sure if that's Jim Schwartz's style, but we know this: his job prior to Detroit was as the Defensive Coordinator for the Tennessee Titans, who year in and year out have one of the most consistent D-lines in the game. Bowers probably steals a starting job from either Vanden Bosch or Avirl, much to the chagrin of Rams fans awaiting the next pick. Detroit must now pray to the football gods that an offensive tackle like Derrick Sherrod, Orlando Franklin, or Will Rackley is available when they're on the clock again.
14. ST. LOUIS RAMS. Corey Liuget, DT, Illinois. I was trying to foil your Fins pick here, KD, but I have no idea who you think they'll take. The Rams are one of the most impressive teams over the last few years, even if they will always play second fiddle in St. Louis to the Redbirds (everyone like my obligatory Cardinals reference? Because I do). Their selections of franchise QB Sam Bradford, DE Chris Long, LB James Laurianitis, and OL Jason Smith and Roger Saffold the last two years has helped to bring this team back to relevance for the first time since "The Greatest Show on Turf." The Rams need a WR or TE, but with none on the board worth taking at this point I think they look to bolster their defense, which seems to be a player or two away from becoming a top tier unit. What this team needs is a disruptive player on the other side of the unit to draw some attention away from DE Chris Long. Since he can play either tackle position, the Rams select Illinois DT Corey Liuget. He's a freight train when trying to bust through the line, and has the athleticism to work around more adept O-lineman. Solid pick here for the blue and gold. KD, your 'Fins are on the clock.
15. MIAMI DOLPHINS. Ryan Mallett, QB, Arkansas. As this draft process has wound down, the Dolphins have 3 main targets if they can't trade out of the 15th spot (since that's against the rules, the pick is one of these): Florida C Mike Pouncey, Arkansas QB Ryan Mallett, and Alabama RB Mark Ingram. Having followed the Dolphins religiously, their last three first round picks have met with Miami one time prior to the draft - Jake Long, Vontae Davis, and Jared Odrick. If that logic prevails, then the pick is Mike Pouncey. However, after learning about new OC Brian Daboll role-playing as Brandon Marshall during a meet with TCU QB Andy Dalton (yes, Miami is embarrasing. This a year after asking about Dez Bryant's mother's street life as a prostitute), I've grown tired of mustached head coach Tony Sparano and I wish he'd go the way of the fishes. But I like Jeff Ireland and think he'll be around for the long haul. He wanted to trade the 32nd pick of the 2008 draft to move back into the 1st round to select Joe Flacco. Needless to say, a combo of Jake Long and Joe Flacco would've been gravy. Bill Parcells overruled Ireland then, but Parcells is gone now. And if there's one QB in this draft that most similarly resembles Joe Flacco, it's Arkansas Ryan Mallett. Drug issues aside (it's college, who doesn't party a little...or every day in UD's case), he's the most talented QB in the draft, so the Dolphins take Ryan Mallett. As to who will coach him up...good question. Sparano's an idiot. His QB Coach is former UCLA Head Coach Karl Dorrell - who has been Miami's WR coach since he arrived in 2008 and has no prior experience at any level - high school through the NFL - coaching QBs. Good luck Mr. Mallett.
16. JACKSONVILLE JAGUARS. Jimmy Smith, CB, Colorado. Ryan Mallet? In Miami? Have you been to Miami? You want him going to your team, in a city that inspired this article? That's a bold move, Cotton. Anyway, let's tackle the Jags draft situation. Like many teams, Jacksonville is in dire need of a QB. Speaking of drugs, David Garrard is a fantasy football addict's worst nightmare: 4 TDs and 280 yards passing one week; 0 TD's, 2 INTs, and 140 yards passing the next. But the only QB in this draft I see fitting in this spot is Christian Ponder, and frankly, I don't like his pro prospects. If I was an NFL GM, I wouldn't draft Ponder if you said I could have Super Bowl and Masters tickets for life (who am I kidding, yes I would). So like many other teams, I think Jacksonville waits to draft a QB. Since this is the third team I'm saying this for, yes, I believe there will be a run of QB's taken on Day 2. So I look to bolster the Jags 28th ranked pass defense, and to do that they make quite a reach and take shutdown CB Jimmy Smith out of Colorado. He's a big, physical corner than can frustrate opposing WR's at the line of scrimmage, an important trait for facing timing QB's Peyton Manning and Matt Schaub four times a year. Smith immediately takes the starting job opposite Rashied Mathis. Jacksonville fans b*#(% and moan for another year as the Jags refuse to take a QB. Hold on, what's that you say? There are no
CLICK HERE FOR PART II.