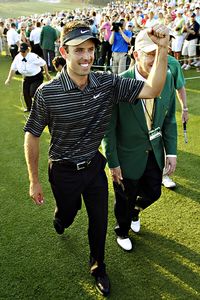 After an exhilarating final round, filled with spectacular moments, unbelievable charges, clutch play, and a fantastic finish, let's do a little recap of all the players in contention.
In order to win the Masters, you have to have to two things happen on Sunday. First, you need to have a little luck. Second, you need to have a LOT of testicular fortitude. For those who don't know what that means, Google it. I don't want to offend any readers. Here's the rundown.
Masters Champion, Charl Schwartzel

– High on luck, High on the TF.
Charl's been kind of a "ready to burst out" type of guy for some time. I read an article right before the British Open last year saying he would be the next South African to win a major. Then Louis Oosthuizen, Schwartzel's roommate and a fellow South African, demolished the field at St. Andrews. But the 140 pound Schwartzel should have been on my radar for two reasons. First off, how is it possible that I even thought about leaving a man with some kick ass chest hair off my picks column? I mean, as a proud sporter of the chest hair myself, I have to support someone who rocks it with pride. It doesn't get enough support in modern day society. Secondly, how could I not pick a guy who is ballsy enough to drop the "es" off of a name as awesome as Charles? I may have a new second favorite golfer behind Phil.
The truth is that Charl had luck on his side on the front nine. He chipped in from a ridiculous position with a 7-iron on the first, and then got a perfect spin/roll combo for an eagle at #3. Just like that, we had a new leader. He kind of just plodded along for a bit, dropping back a shot, until he hit 15. Birdie. 15-footer for birdie drops on 16, and just like that the tournament changes and Tiger's out of contention. Then a clutch birdie on 17, and Schwartzel's your new leader. When he piped his tee ball on 18 right down the middle, the tournament was over. AND THEN HE DRAINED THE PUTT ON 18. WHEN HE DIDN'T HAVE TO. If that's not testicular fortitude, I don't know what is.
Adam Scott – Almost There on Luck, High on the TF.
Adam's luck was on his side. His McIlroy like drive on 17 ended up in a bunker where he could get it back in the fairway. As my buddy Curry pointed out, everyone thought after 17 that he was going to win the tournament; Adam did nothing to lose it. But the Golf Gods are sneaky sneaky. For years, Adam Scott's been known for having one of the best swings in the game, but he just couldn't putt. But now the dashing Aussie has a long putter, and his putting stroke is solid. I certainly did not expect him to knock in either the putt on 15 or 18 for par, but he did. Aka... Testicular fortitude. This may have been his coming out party, and I can just picture him quoting Adam Sandler: "Uh oh, Happy learned how to putt!" He'll be contending in a few more majors in the near future.
Jason Day – Low on Luck, High on the TF.
This kid really impressed me. The 23 year old Aussie has been creeping up the World Rankings, and just didn't get any bounces to go his way Sunday. I heard a lot of muttering all week, and he was constantly grinding out pars until he birdied both 12 and 13 to get to 10 under. But kind of like Tiger, he stalled. Then he turned on the TF by draining lengthy birdies on both 17 (while feistily staring down Adam Scott after the make) and 18 to tie for the lead. I like the fire this kid brings to the table, and think he's going to be around for quite some time. Plus, he married a girl from Ohio. And if you marry a girl from Ohio, you're doing something right.
Tiger Woods – Meh on Luck, High on Swing TF, LOW LOW LOW on Putting TF.
During the entire front nine 31, I kept thinking "Man, Tiger must have found a solid ladyfriend in Augusta." He looked like the pre-Thanksgiving crash Tiger. He was throwing darts at pins and putts were dropping everywhere. Then the shot of the year, a 290 yard uphill 3-wood, followed by a drained eagle putt.
Then came the fist pump.
Tiger was BACK BABY! As much as I root for Phil, I respect Tiger, and hope he does break Jack's record of 18 majors someday.
But something happened to Tiger on the back nine. Maybe caddie Steve Williams forgot to arrange for a conjugal visit for Tiger between 9 green and 10 tee. Maybe something else happened, but Tiger lost his mojo at the turn. He three putted 12, hit a horrible approach on 13, and then after a vintage Tiger shot and pose on his approach at 15, he missed a curling four-footer. Old Tiger doesn't miss those putts. But New Tiger sure looked like Old Tiger while swinging the club Sunday didn't he? Tiger's close, and when the putts start falling, watch out. He may never dominate like he did from 2000-2004, but I can promise you, he won't let us forget who's the best player in the world when he's at the top of his game. I'm rooting for you Tiger. Keep the "process" going.
Luke Donald and Geoff Ogilvy – Meh on Luck, High on TF.
These guys were impressive. Luke rallied from a subpar Thursday to finish T-4, but really didn't have things going his way. With the weirdest 18th I've ever seen, he pulled off a miracle shot that no one could believe, using a sideways stance to get toward the green. But the ball caromed off the flagstick and skirted off the green, effectively killing his chances, until he miraculously chipped in from the front collar. If we could just get CBS to stop doing slo-mo celebrations I would be fine, because it was an unflattering view of Donald that made me want to make inappropriate jokes.
Geoff Ogilvy just couldn't get any consistency all week until five straight birdies on the back nine took him to a Sunday 67 and a T-4 finish. I really can't say that I've ever seen a player hop into contention like Ogilvy while simultaneously getting minimal coverage on TV. I felt like we didn't see him hit a single live shot on Sunday. It was all, "just a second ago, Geoff Ogilvy had this for birdie." Very weird.
Finally, things need to be said about Rory McIlroy. Low on both luck and TF, this time, but high on class.
What can you say? Rory McIlroy woke up Sunday with a four shot lead in the Masters. But he missed a short putt on the first hole, and then caught the lip on a fairway bunker on the second. The whole world at that point just knew: "Uh oh." When all was said and done, he finished T-15, ten shots back of Charl Schwartzel. But it didn't really sink in what was happening until the 10th tee. He had a one shot lead when he hit a ball so far left that America found out for the first time that there are cabins at Augusta OTHER than Butler Cabin. He was so far off the map that cameras couldn't even pan in to where he was. Two trees, a compass, and a triple bogey later, McIlroy was done. To add insult to injury, he bogeyed 11 and four-putted the 12th for a double bogey.
If you have a heart, you felt for the 21 year old. It wasn't easy to watch. I've been in the midst of a meltdown on the course before in a tournament, and it's a sickening, cold feeling; and I'm talking about playing in a high school tournament that doesn't matter, not the final round of the Masters. When he walked off the 18th green, you wanted to clap with the gallery. You wanted to pick up his spirits. But after his post-round interview, I wasn't worried about him. He handled the interview with class, and he handled it with a mentality much more mature than the average 21 year old. He handled it like a person who will learn from the experience, use it to build character, and win a major in the not so distant future. Something a lot of people don't understand is that you have to be prepared to win a major, and you do that by experiencing failure. It comes in due time. Tiger's victory at age 21 was the exception to the rule. McIlroy has 25 more years, or approximately 100 more majors where he can contend. The man's got time, so Sunday night I'm hoping Rory did what I like to do when I have a crappy day. Grab an ice cold beer, and take a long hot shower. Because what happened on Sunday wasn't his fault, it was ours.
I've been thinking about this alot since Sunday, and I'd like to create a new term: being McIlroyed. I understand what many of you are probably thinking: this is a new term for "blowing a four shot lead going into the final day of a Major Championship." However, you would be wrong. The next three examples reflect what it means to be McIlroyed. Bear with me here.
Example 1: Three of my best friends (Curry, BDubs, and JShy) and I are in what we call the Gentleman's Betting League (from this point forth, it's termed the GBL). Last year, we decided to each put $100 into a pot - winner take all. Over the course of the year, we make picks on sporting events, anything goes. We pick NBA Playoffs, Tennis events, NFL Picks against the spread; literally anything you can think of, we bet on. We have a point system to track how things are going, and at the close of each year's PGA Championship, we will tally it up and settle the payments the next week on our annual golf trip (which this year is in Vegas baby. Vegas. We're so money we don't even know it). JShy fell on hard times the second the competition started. He can't win an event to save his life, and was basically eliminated from the inaugural title before it even started.
For each of the four golf majors, we do a draft to pick five players. It's pretty simple, you just tally up your "team's" score at the end of the tournament, lowest score wins. Here was JShy's team: Dustin Johnson, Matt Kuchar, Nick Watney, Rory McIlroy, Ricky Barnes. His teams score after Friday's round: -18. The other teams: Chizzy -3; Curry -8; BDubs -9. To put it bluntly, he's spanking us.
On Friday afternoon, I get the following two text messages: (1) 3:11 P.M. - "Thus far I'm destroying you guys in the Masters pick 'em;" (2) 3:13 P.M. - "Just wanted to take this opportunity to rub it in, as it's been my first such opportunity in the existence of the GBL." Just a littttttle bit overconfident, and I bet you can figure out what happened next. Game. Set. Match. JShy's team shoots a combined 15 over par in the final two rounds, and he finishes third in the tournament. Overconfidence effectively killed his team's chances in the event.
Example 2: In 2007, Ohio State played Florida in the National Championship game. Ohio State had dominated its regular season, beating Michigan in the famed "1 vs. 2" game. We had Teddy Ginn, superfrosh Beanie Wells, and Heisman Trophy Winner Troy Smith. The media had already given the Bucks the game, and the BCS Championship was basically an afterthought. On the opening kickoff, speed demon Teddy Ginn runs the kickoff back for a touchdown. 7-0 Bucks. After going crazy, I decide to trash talk to the only Florida fan I know, the Keebler Elf. I text him something absolutely ridiculous about how Ohio State will dominate, walk back into the living room, only to learn that Teddy Ginn went down. He doesn't see the field for the rest of the game, and I'm pretty sure the rest of the Ohio State team disappeared as well. Final score: 41-14. Ohio State's reputation: shattered.
Example 3: What happened on Sunday at the Masters. For the last three years or so, Rory McIlroy has been anointed as the next "Chosen One." The next "golf superstar." As a matter of fact, I tend to agree with this statement, even though evidence suggests that the chosen ones don't work out. Sergio Garcia is still searching for that first major. But McIlroy's got an unbelievable game, and seems to have his head in the right place. And after he surged to a four shot lead after Saturday's round, the media was having a field day. The following headlines popped up:
"Rory McIlroy's Coronation,"
"Late Burst Puts McIlroy in Clear,"
"Is Rory McIlroy the New Tiger Woods?"
Everyone in the media and public predicted he would coast to the Green Jacket.
So what happened? McIlroy got McIlroyed. Just like the Buckeyes got McIlroyed by me. Just like JShy McIlroyed his GBL Masters team. Once anyone starts talking about a sure thing in sports, or begins trash talking too much, the Sports Gods let karma take effect and have a McIlroy waiting around the corner, ready to pounce.
So to conclude, I think there's three things to take away from this Masters:
1. It truly is now a global game.
I was awestruck by the leaderboard throughout the tournament. On the back nine Sunday, six continents were represented. North America: Tiger Woods, Bo Van Pelt. South America: Angel Cabrera. Europe: Rory McIlroy, Luke Donald. Asia: KJ Choi. Africa: Charl Schwartzel. Australia: Geoff Ogilvy, Jason Day, Adam Scott. For so many years, golf was dominated by the United States and Europe. There were so many great players on both sides that I don't want to list them all. Many things contributed to this trend, but mostly it can be said that golf was viewed as a "rich man's" game. But in Africa, South America, Australia, and Asia, it's apparent that the trailblazers have seen their influence finally come to fruition, and the game has reached the far corners of the world.
In Africa, Gary Player gave rise to a new generation of golfers including Ernie Els, Retief Goosen, and Nick Price. In Australia, Greg Norman paved the way for the large number of Australians, and an argument could be made that his failures in the clutch (see: 1996 Masters) have given the new generation an emphasis on what it means to come through when it matters. In Asia, Isao Aoki and Jumbo Ozaki paved the way for K.J. Choi, Shigeki Maruyama, and now Ryo Ishikawa and Y.E. Yang. And in South America, Robert de Vincenzo was a worldwide icon who Angel Cabrera, Carlos Franco, and Camillo Villegas all looked up to. Golf's a worldwide game now, and I personally think it's a good thing.
2. The new generation is FINALLY here.
Sure, Ernie Els, David Duval, and Vijay Singh had some good times, but ever since Tiger's record shattering, game-changing win at the 1997 Masters, the game has really been about Tiger and Phil. And everyone has been waiting for a new generation of players to step up, win, and challenge the Big Two. Some thought it would be Sergio after the 1999 PGA, but he's now more known for his whining than his golf game. In the early 2000's others thought it would be Stuart Appleby and Robert Allenby, but the two Aussies never really took that next step. About six or seven years ago we thought it would be Adam Scott, Justin Rose, Paul Casey, and Luke Donald. For the last three years, the talk's been about McIlroy, Dustin Johnson, Ryo Ishikawa, Charl Schwartzel (who was a very popular up and comer over in Europe), Rickie Fowler, and Nick Watney. But no one's been able to take the next step. Until last year, when Graeme McDowell, Louis Oostheiuzen, and Martin Kaymer all stepped up.
The Masters this year really set the tone for what I think is the future of golf. It seems that the new generation is finally ready to step up and take center stage, and a level of parity is going to hit the game like we haven't really seen since the early 1990's, when there was no one dominant player in the game. Tiger and Phil are still going to contend, and will probably win a few more, but they're no longer the automatic picks to win majors that they were in the past.
3. For once, clutch was the name of the game at Augusta National.
The Masters has traditionally been about heartbreak, and Rory McIlroy joined this infamous Masters list.
Greg Norman
losing a six shot lead on Sunday in 1996 to see Nick Faldo win the green jacket. Nick Faldo benefitting again in 1989 when
Scott Hoch
misses a two foot putt to win on the 18th green. Ernie Els being caught on the back nine in 2004 by Phil Mickelson.
Roberto de Vicenzo
(what a stupid he is) getting into a playoff, but signing for the wrong score, and handing the Masters to Bob Goalby in 1968.
Kenny Perry
bogeying the last two holes in 2009, then losing in a three way playoff to Angel Cabrera.
But to me, the thing that stands out for the 2011 Masters is the clutch play down the stretch. It was something we've never seen by so many people. Geoff Ogilvy started it off, making five straight birdies starting on Amen Corner from holes 12-16, no easy feat in itself. Jason Day made an impossible putt on 17 after staring it down, and showed his clutchness on 18 by making a putt to tie for the lead. Adam Scott, long known for his putting woes, made clutch 10-15 foot par putts on holes 15 and 17; I thought those putts would win him the tournament. It probably would have, but Charl Schwartzel birdied the last four holes on Sunday to win the Masters, including a difficult putt on 18 that he didn't have to make. An unbelievable feat, one we may never see again. It truly was a spectacular Sunday, and Augusta National once again proved why in my opinion Masters Sunday is the best day on the sporting calendar. Congratulations to Charl Schwartzel, the 2011 Masters Champion. I don't think this is the last we hear from you.