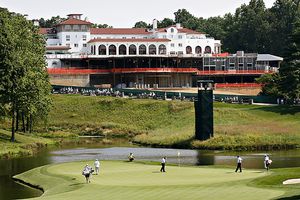 It's time for the ol' US Open. America's national championship is the toughest tournament the players will play all year.
Five inch high rough? Check.
Greens that roll faster than hardwood floors? Check.
Par 4's longer than the longest hole Average Joe plays ever? Check.
The U.S. Open is the USGA's (golf's governing body) opportunity to rise up and slap the professionals around like a red-headed step child. The winning score is rarely below par, you're going to see a heck of a lot more scores in the 80's than you will in the 60's, and Sunday is known for its famous meltdowns.
TC Chen's double chip back in the 80's. Arnold Palmer blowing a seven shot lead back in 1966. Dustin Johnson going triple-bogey triple-bogey last year at Pebble. Phil Mickelson double bogeying the eighteenth in 2005 to hand the title to Geoff Ogilvy.
This year should be no different. Congressional Country Club's Blue Course measures over 7,600 yards. The 18th hole is a brutal 523-yard par 4, with a tight fairway and a green completely surrounded by water. I don't want to play that hole. Meanwhile, many players are starting their tournament on the par 3 10th hole, a 213-yard hole that is over water, with bunkers in front and behind. Talk about a way to be shaking in your boots before you even get started. I've played a lot of golf, but I'd be terrified with 15,000 people watching me.
Having said all that, it takes a special (or extremely lucky) person to win a U.S. Open. They need to be long off the tee, hit a LOT of greens, and be a solid - but not great - putter. The reason I say that is because at the U.S. Open, you're not trying to make birdies. You're trying to make pars. So if you hit a lot of greens, two putts are going to be just fine.
Almost every player in this tournament can two putt from most places, so in my mind hitting greens is the most important quality in a U.S. Open champion candidate. Even more important than wearing snazzy outfits on the course, and that's saying a lot because as we all know, 90% of being good at golf is looking good while you're on it.
Keeping those qualities in mind, the following five players are the ones that I believe have the best shot to win this week at Congressional, followed by the player I think WILL win. Go into this knowing that I'm probably going to be wrong.
PLAYERS I DON'T THINK WILL WIN THIS WEEK
Sergio Garcia, Bubba Watson, Dustin Johnson, Martin Kaymer, Paul Casey, Rory McIlroy, Anthony Kim.
PLAYERS THAT COULD SNEAK IN THERE, BUT AREN'T MY FAVORITES
Nick Watney, Matt Kuchar, Hunter Mahan, Jeff Overton, Ernie Els (won here at Congressional in 1997).
POTENTIAL CANDIDATES TO HOIST THE TROPHY
Lee Westwood:
Starting at the Masters, the strapping Englishman has played six events leading up to the U.S. Open, winning twice and never finishing outside the top 11.
That's a pretty good track record if you ask me.
Westwood is known as one of the best ball strikers in the world with his irons, especially the longer irons.
At a U.S. Open, the key is to get on greens. If you don't, you may as well be left for dead.

The last three years, the winners of the tournament have all been in the top 15 in greens in regulation for the tournament.
Westwood's statistics this year on the PGA Tour?
68.33%. Good enough for 18th place. And he ONLY plays the top events on Tour; he's not playing the John Deere Classics and the Turning Stone Championships which yield high GIR percentages. He's also been dropping a lot of putts from 15-25 feet (27.08%, 2nd on Tour).
Also, Westwood leads the Tour in distance from the pin from shots from 125-150 yards as well as shots from 200-225 yards - key distances this week. He also has the lowest Sunday scoring average on Tour this year. All this information leads to a strong potential for Westwood to capture his first ever major championship this week.
Luke Donald: He's the No. 1 player in the world, has played in nine events on Tour this year, and has finished in the top 10 in eight of them. In the words of Jason Segel in the Bad Teacher trailer, "THAT'S ALL THE ARGUMENT I NEED, SEAN!"
But in case those statistics still leave you wanting for more, I'm happy to oblige. Donald - long thought to be one of "the next big things" in golf - is known as Mr. Consistency. While he doesn't hit the ball a long way, he is one of the best players in the world with both the irons and the flatstick.
He leads the Tour in scoring average, is 5th in birdie average, 6th in putting, and is 33rd in GIR average. While nothing on Donald's resume blows anyone away, it is the fact that nothing in his game is a glaring weakness. He is an all-around great player.
At the U.S. Open you need everything to be solid - driving, irons, wedges, putter. Nothing needs to be overly spectacular, but everything needs to be reliable. Donald has that game, and fits the bill of a major champion. The most important thing is that even he believes this major is his best opportunity - he said earlier this week that the U.S. Open is the major that best suits his game.
Phil Mickelson: I don't really need to go into statistics here. Why? Because Phil will contend here. The guy has nine Top 10's over the last 15 years, including five second place finishes.
Phil is the most tortured player in recent U.S. Open history, and perhaps of all-time. He finished second at Pinehurst to Payne Stewart in 1999 in one of the most iconic tournaments of our lifetimes, to Tiger Woods in 2002 at Bethpage Black when the crowd was distinctly behind him, to Retief Goosen at Shinnecock in 2004 when Phil's putter failed him, most tragically in the aforementioned tournament at Winged Foot in 2006, and again at Bethpage in 2009 when his putter failed him.
Phil wants to win this tournament more than anything, and I think this is his last great shot at it. He's getting up there in years, and his dominant reign seems to be on the beginning of its downturn. As a diehard Phil fan myself, I don't want to see him falter. Watching him in the 2006 Open was one of the hardest things as a fan of sports that I ever had to watch.
But there's no doubt Phil is contending here this week. He's been playing well, won the week before the Masters, likes the set-up, and is always a threat to win.
Steve Stricker: Stricker may be 44 years old, but he's been playing the best golf of his career after the age of 40, similar to Kenny Perry a few years ago.
Known for spending his winters hitting balls out of a heated range in upstate Wisconsin, Stricker has the game, demeanor, and recent track record to set up for success this week.
Known as one of the best ball strikers and putters on Tour, Stricker can hit the ball with the best of them. He hits a TON of fairways (65.55%, 33rd on Tour), which is important at the U.S. Open. If you get into the rough, sometimes you can't even find it, and if you do you're better off getting it out with a machete in your hand.
Stricker also hits a lot of greens (67.75%, 22nd on Tour), and is especially accurate from 150 yards and in. Finally, he's the best in the game from 15 feet and in, which reflects and impeccably cool attitude which serves well in a U.S. Open. He likes to stay steady, and just goes about his business.
What's the takeaway from all of this? As shown in his recent win in the Memorial, if Stricker is on his game he's one of - if not the - best in the world.
K.J. Choi: Does K.J. even have emotions? I mean, the guy doesn't smile, doesn't get angry, barely talks, and basically goes about his business on the course like a samurai ninja. In fact, that's my new nickname for him: Ninja Choi.
Ninja Choi picked up the biggest win of his career last month at the Players Championship when David Toms basically threw up on himself in a playoff.
Long known for playing basically an entire set of hybrid clubs, Choi is a great iron/hybrid player. He ranks near the top of the Tour for shots played from 150-200 yards, and with an abundance of 440-470 yard par 4's, those shots need to be on to hoist the trophy on Sunday.
While his statistics aren't overwhelming in his favor, Ninja is what us in the golf world like to call a "grinder." What this means is that he's a gritty player who never gives up, and can make par from anywhere. In a U.S. Open, that's essential, which is exactly why I like Ninja Choi to sneak up the leaderboard this week.
MY PICK TO WIN THE TITLE: In a complete front-runner move, I'm taking Mickelson. It seems his "window of opportunity" is closing, and if he's going to win a U.S. Open this is the best year to do it. Best of luck Phil, bring home the hardware.